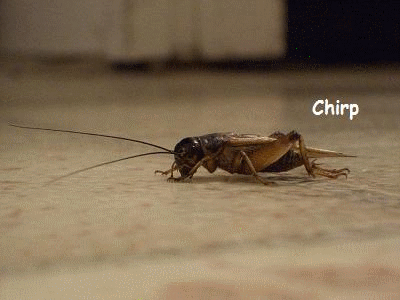 Uuuhh…weren't we talking about…the thing? Kentucky, Kurt Russell movie about a sassy sea captain, something-something Murder-death-kill?
You'll have to excuse us, the folks at BnL are easily distracted and find it difficult to fini…
AH! CAVES! We were in a cave watching a band and, and, and we got shushed and Matt Dog drank ALL the Tecate and something happened involving a midnight swim, in naught but undies, at a hotel pool. Okay, folks, it's all coming back, now, in a steady stream of wild data like when Dr. Emilio Lizardo put that 20 volt clamp on his tongue to reminisce about inventing the oscillation overthruster. Wait…I already used that gif last time. Whatever.
Okay. Let's get on with this.
As you may recall, Sly regaled the citizens of Planet Erf with his perspective on the Murder By Death show in that antebellum larder/gas chamber what dragged our embarrassingly perky behinds to the Brewgrass State (see what I did there?) all the way from Color-ay-doe. His perspective is solid, thus the event requires no more explication and this, the final installment in our apparently six-month series of articles about a three-day event, will focus on A Nice Little Sunday.
The final full day of BnL's foray into Louisville was the Sunday following the Murder By Death show. Sadly, Pete M and his motley crew of hot gals and sexy brother had to jet/van back to Michigan. Matt Dog and Sly were left with the Herculean task of killing 24+ hours in a city they hardly knew with nothing at their disposal save Uber and probably limitless credit cards. Usually these two pillars of decent society would take in a play, perhaps something from the local community theatre troupe; or visit a museum and learn more about the history of Kentucky's (only?) city; or perhaps even enjoy a glass or two of sangria in a city park, so long as it was legal to do so and Sam and Matt had filed the proper licenses several weeks beforehand. Well, given that this was an unusual Sunday, these two studly beefcakes decided to break character and do the following:
Day drink
Day drink
Day drink
Eat Italian food
Evening drink
Eat cheeseburgers
Evening drink
Go to bed at a respectable time
Their morning started out with an Uber ride downtown (they literally just asked the driver to take them "downtown"), chauffeured by a German emigre who suspiciously knew nothing about Kraftwerk OR German history between 1936 and 1946. Dropped off in the not-so-surprisingly-dead-at-10am-on-a-Sunday downtown of Louisville, Sam and Matt made their way to…three guess?
Diner? No…
Church? In a manner of speaking…
Brewery?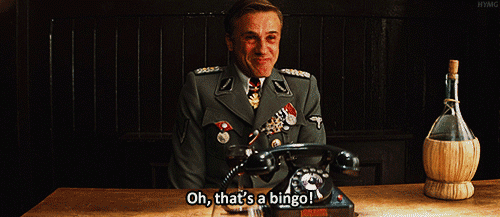 Against the Grain Brewery, to be exact, where these two stalwart practitioners of moderation consumed all manner of rich, fatty proteins and several delicious beers. Matt Dog, as is his way, also drank three cups of coffee and one…*shudder*…Pepsi. Soda blasphemy aside, it's worth noting that Against the Grain Brewery's facility is festooned with awesome Ralph Steadman images and mural homages to the spiritual leader of Beer 'n' Loathing, Professor Hunter S. Thompson, Esq. A fitting start to a long day of beer, carbohydrates, and snot-rockets.
The first stop post-breakfast was a legit dive bar complete with a surly, cigarette smoke-drenched bartendress with all the charm of an empty Marlboro carton (she was actually quite awesome and kept the $1.50 PBR tallboys a-comin'); a host of gravelly, sullen, where-did-we-go-wrong barflys (besides Sam and Matt); and, true to form, one fairly sizable cockroach that darted across the blood-red pile carpet, through Matt's U.S. Forest Service-managed leg hair, and across the bar…to the surprise of absolutely no one.  The bar, called Freddy's, is a monument to the owner (Freddy), who we learned was a Navy boxer and opened the place back in the 60s. The bar walls are lined with boxing memorabilia, pictures of Freddy with local celebs and out-of-towners, and more "Cash Only" signs than a Bangkok ladyboy lounge (from what a friend told me…sorry, a "friend"). Sam and Matt even caught a glimpse of ol' Freddy, a hunched-over fella well into his 80s who seems to do little more than putter around complaining about the lack of paper towels in the "bathroom" and greeting the regulars — stands to reason ol' Freddy has earned such a cushy routine after 52 years of bar ownership.
After a eight or so PBR tallboys, Sly and Matt Dog struck off in search of another dive bar. Such places are typically more in-line with their social aesthetic and desire to limit outward cash flow. The next place, which had the phoned-in name of Third Street Dive, was less a dive bar in the authentic, "look at how many arthropods live in our carpet" way that Freddy's evoked, but more in the "hey, we read on A/V Club that dive bars are cool but we don't want the skeez and wanna charge $4.50 for a Hamm's" kinda way. Nevertheless, Sam and Matt bravely entered and secured nine dollars worth of suds and milled around the seemingly divey, but highly curated and deliberate interior of Third Street Dive. Matt found a pinball machine and played it with gusto; Sam found some Batman decor and documented it thusly:
More PBRs were had: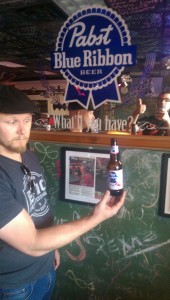 And a High Life: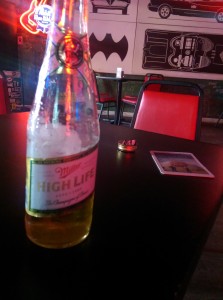 And eventually, Sam and Matt broke down and decided to gab with a gaggle of locals that wandered in and alighted on a scummy table near the bar. As it turns out, this group of locals was actually no more local than Sam and Matt, and after presented with genuine BnL credentials, was unimpressed and proceeded to ignore poor Sam and Matt. A brief conversation with a fellow from…I wanna say Africa? (the country, not the continent) ensued and momentarily restored Sam and Matt's faith in the affability of strangers who are nursing a mild buzz. Ruff life, amirite?
Anyway, the rest of the day sorta took that same path around the dusty, mostly vacant streets of Louisville (to be fair, it was a Sunday in a Bible Belt city). Italian vittles were consumed (with some more suds); then some more ambling; a pretty wicked snot rocket was launched; then another meal of rudely smashed burgers; then Sam took a cat nap on the sidewalk while Matt invoked Uber. At a fairly respectable hour, Sam Sly and Matt Dog 20/20 were whisked back to their luxurious hotel room (Baymont Inn and Suites, EAST) where they slept the sleep of the victorious, having conquered Louisville and seen everything it had to offer (or did they? [they didn't]).
The next morning they awoke to gather their gear and survey their…habitat:
After a #tbt video that gave–and probably continues to give–Sam a wicked case of hot-mouth, our two fearless conquistadors of celebration made their merry fucking ways back to Denver, where they were greeted by the stone-cold reality that not every day can be a whirlwind tour of a foreign land bookended by cave-music, dive bars, and stuffed to the gills with ruthless cab drivers/racists, Navy boxers/cockroach ranchers, PBR, and the completely unpalatable putrescence of Louisville fucking Lager.
Oh, and Matt also left the poor housekeeper the best tip ever…a third of a plastic bottle of bourbon.
Cheers, mates.