Once upon a time, a charming young lad went to Burning Can and ran the Beer Relay in the magical land of Lyons, Colorado. Our hero wound up making three gruesome errors, as chronicled in the tale you can read here. The lessons he learned were simple and easily applied for the next time he chose to go on a similar adventure. Alas, our hero returned to Burning Can, but yet did not experience the success he had hoped for. Maybe the charm would be benefited from a third attempt?
Don't be mistaken, I am comparing my adventures to a fairytale. It's a fucked up fairytale, but a fairytale nonetheless. There are unique characters, challenges to overcome and lessons to be learned. This year there was literally a princess. Yes, I went back to Burning Can again. Yes, I tried to redeem myself on the Beer Relay and festival. Yes, I referred to myself as a hero in the previous paragraph. Even though I didn't fail as hard as I did last year, I still haven't quite figured this whole thing out; but I'm getting close.
This time, I was prepared for the running. The course was the same as last year, and I've actually been training pretty diligently for an ultra marathon next year, so a few three miles loops with real elevation change were good for my training. Although, once again, my costume was one of the worst things I could have worn for the first lap.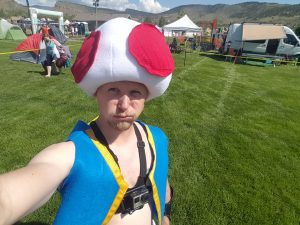 Our team theme this year was Mario Kart, and I dressed like Toad. I can't tell you how much fun it is to have people giving you high fives and yelling "Yeah TOAD!!" while you're blasting through the high plains watching out for rattle snakes… oh wait, I guess I just did. Anyway, it's fun for the laugh, but when you're wearing a felt mushroom cap puffed up to the max with white nylon stuffing you realize very quickly you're going to overheat; and that's exactly what I did on lap one.
Another problem I encountered this year was the dreaded hangover. Yep, one of the easiest fuck ups from last year to avoid was not avoided. However, this year I can honestly say I was less hungover. Last year's was a full onslaught of all of my senses and exhaustion before I even took one step on the course. This year, it was a little bit of a headache and maybe some dehydration. Nothing a few bottles of water and a couple laps couldn't fix, but the next problem was not even on my radar and revealed itself almost immediately…
Last year, it was optional to chug a beer and get time taken off your lap. Last year, I chugged one beer for the fun of it and called it good. Last year, chugging that beer was my one success for the day. This year, the rules for the Beer Relay had changed and all racers participating HAD to chug a beer before each lap. This year, my stomach couldn't handle the idea of draining a 12oz can of anything and then run for almost three miles. This year, upon rounding the first turn away from the crowd, I spewed hot frothy beer from my face while jogging. Twice.
I could tell the first beer wasn't going to stay down and I felt lucky as shit to make it out of people's visible range. However, I was wearing a GoPro so footage may surface one day of my initial shame, but for now, it's only part of this new fairytale chapter. That said, once I did expel the beer, I felt 100% better and could run noticeably faster. I felt so much better, in fact, that I welcomed the same reaction (and actually made it to the exact same spot) for my second lap.
Without my Toad cap, running completely shirtless and beer-gut free, I felt like I crushed my second lap. However, during the awards ceremony, I learned what the fastest lap time was and I was merely a mortal among Gods. So, instead of feeling dejected, I waltzed into the beer festival and showed these "runners" how to drink some fucking beer. Needless to say, after sampling beers at the festival and then having a few more cans during the concert, the day came full circle and I wound up back in my Toad costume, thankfully without all the sweat this time.
The big win over last year, was deciding to camp at the festival grounds versus trying to pace the beer intake all day and then drive home. Waking up at 7am as the rest of the camp started shuffling around was like a glorious rising of zombies coming out of their slumber, but you're more likely to hear the rumble of "breakfast" or "coffee" instead of "brains." Personally, I was grumbling for "beers" but that's just me.
The whole experience, much like the Beer Relay trail, was ups and downs. This year was clearly not a perfect lap, but I'm showing improvement each year much like my relay laps. If last year was a trip and fall on my face, this year was only a slight stumble out the gate. Maybe third time will be a charm and the fairytale will get its proper ending. Even a fucked up fairytale deserves a proper ending.