Pizza. Beer. These two things combined are frequently cited in people's "The only thing better than pizza and beer is (insert something cool)" statements. I don't disagree and would go as far as to say putting these things in a single location with live music and you have yourself something more powerful than the triple tipped death machine that was the trident of Poseidon. Nestled in Denver's LoDo neighborhood, the wonderfully located Marquis Theater is the trident to Denver's Poseidon. Minus any death.
I can't even count how many nights I've wandered out of whatever bar I was in and decided to stop down to the Marquis for a slice of pepperoni pizza (or two depending on just how blitzed I'd gotten that night) only to hear snippets of whatever band was playing and suddenly become very pissed at myself for not going to the show in the first place. Hearing Authority Zero thank the crowd and launch into their last song one night comes immediately to mind.
Anytime I snap out of my haze at the Marquis, I marvel at the intimate setting.Take a show like A Wilhelm Scream, for example. At the time, I was recovering from knee surgery and my PT warned me to mostly beware of "drunk people falling on you" and re-injuring it. There was literally no better scenario for that happening during AWS's set, or even during the opening band's Allout Helter and Red City Radio. I stood less than 20 feet from the stage, full view of the entire band while the rest of the pit threw themselves around the room with the reckless abandon I abandoned somewhere in my late 20's.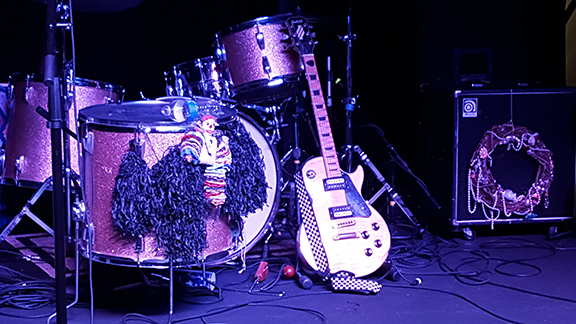 I most recently found myself at the Marquis waiting to see a Detroit band by the name of Jessica Hernandez and the Deltas. I walked in just as opening band The Jekylls took the stage. They tout having a 60's style pop sound, which was not a lie. It's heavy on some surf stylings as well. The middle act, a lone singer/songwriter named Brent Cowles stepped up with his semi-hollow guitar and crooned to the crowd for a half hour or so.
It was during these two acts I managed to befriend some former Michigan folks who moved out here years ago. They were pretty much locals as far as I'm concerned. A small nuclear family, the son who was actually born here and knew Michigan as more of a mythical land where Detroit is both the capital and sole city surrounded by dense forest and outlined by inland oceans that are mistaken for lakes because the salt is forced down well below the water's surface. We discussed Detroit, pot, Fort Collins and taxidermy. Charming people.
Finally, Ms. Hernandez and her five-piece band, the Deltas, took us through their set of unique pop/rock. There may have been 50 or so people left in the venue, but every single one of us could enjoy the show as we pleased. Some danced the night away, some preferred the low-key seating area and others just stuck to the bar keeping the rounds going all drenched in the wondrous odor of pizza and dive bar. Don't judge, it's actually a strangely intoxicating scent.
This was the first show I went to at the Marquis that didn't have wailing guitars drenched in distortion. I was thoroughly surprised when I woke up the next and my ears weren't ringing any more than when I walked in the Marquis' door the night before. I may have just barely saved a few years of tinnitus.
Even more charming than the ear-bone-saving venue volume and my pot and stuffed animal loving single serving friends, I realized during the set that I actually walked by Jessica Hernandez as I went into the building and saw her and the other members of the Deltas wandering around the bar before their set started.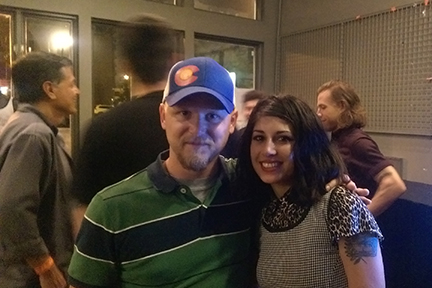 A similar thing had happened at other shows too, and it just cemented that this little place has some extra panache other than the pizza and beer. It's a certain vibe you don't get at every venue, and when you discover one that has it, you want to make repeat visits as much as possible.